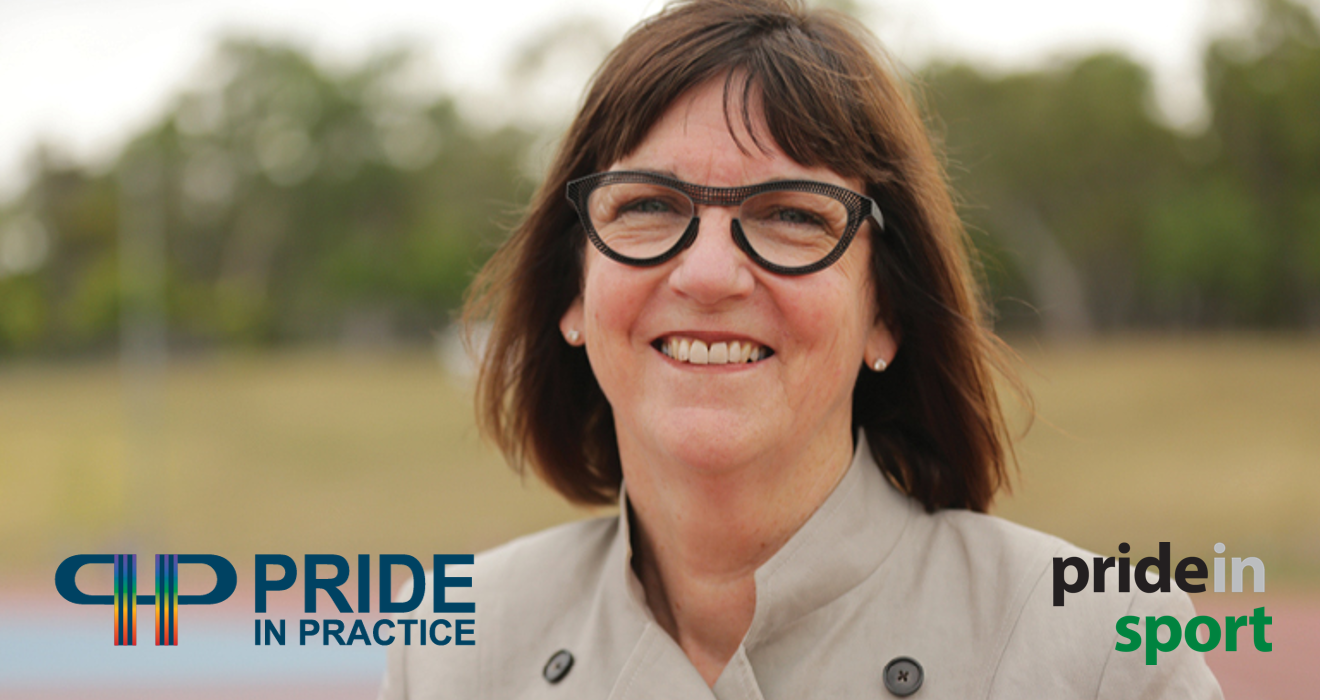 Kate Palmer to speak at Pride In Practice – Australia's LGBTI Inclusion Conference
Kate Palmer AM is a leading Australian sport administrator, and will speak at the 2019 Pride in Practice – Australia's LGBTI Inclusion Conference.
What is Kate speaking about?
Guidelines for the inclusion of transgender & gender diverse people in sport.
"These Guidelines provide practical assistance on how to create and promote an inclusive environment in Australian sport for transgender and gender diverse people. The Guidelines are relevant to all sporting organisations, from national sporting bodies, to state and local associations", said Palmer in the guidelines document.
"Truly inclusive sport cannot be accomplished by a few; it must be done in partnership. Everyone across the sport sector has a part to play in being more inclusive, and there are already many great examples in sport of things that everyone can do. But there is still a long way to go. These Guidelines are designed to help us get there."
Palmer will also facilitate an interactive panel discussion about 'Improving Australia's homophobic & transphobic sporting culture', which will include:
Raelene Castle, CEO of Rugby Australia,
Ricki Coughlan (trans athlete), and
Andy Brennan (out athlete).
Click the below picture to view the full conference program.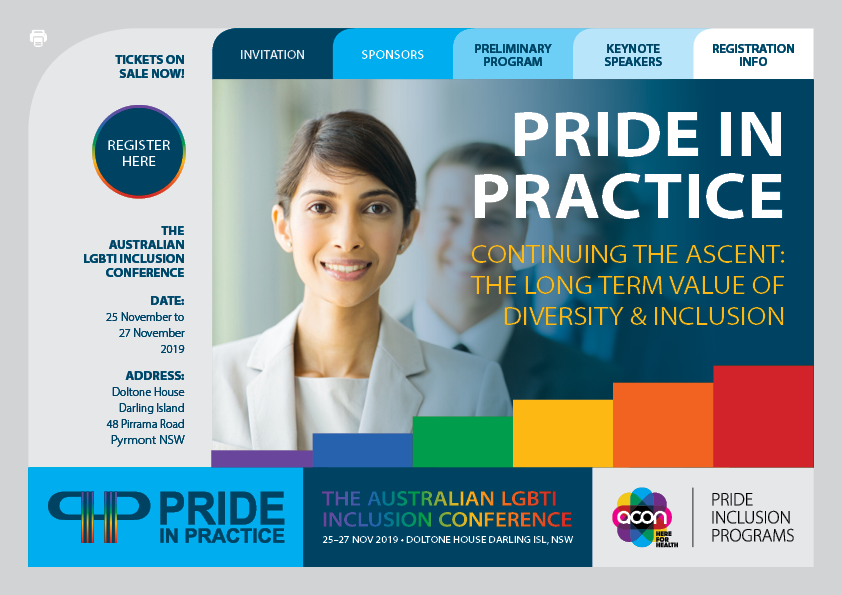 ---
TICKET INFORMATION
All prices displayed exclude GST.
GST will be added at checkout.
REGISTRATION INFORMATION
Individual guest names will not be required. Passes must be picked up upon registration and will act as your ticket.
Should you purchase an interchangeable ticket, we recommend you leave this at the registration desk at the end of the day, to be picked up by the next person the following day. Should you take your pass with you after the conference has concluded for the day, it will be your responsibility to organise the next person to collect it from you.
All passes must be worn whilst on premise. If you do not have a pass, you will not be allowed to enter.
If you select to pay by invoice, you will receive an invoice directly to the email address you have provided within a week. If you have not by then, please email our office.
All early bird registrations must be paid for in full by Friday 27th of September. If payment is not received by this date, the cost will revert to regular pricing.
Cancellations must be received in writing. For cancellations received before 25th October, a full refund will be issued. For cancellations received within 11-30 days of the conference commencement date, a 50% refund will be issued. Cancellations received within 10 days of the conference will not be issued a refund.
---
About Kate Palmer
Palmer was appointed the Chief Executive Officer of the Australian Sports Commission in December 2016. Previous to this appointment, she was Chief Executive Officer of Netball Australia.[1]
Palmer has been leading figure in netball and Australian sport since the early 1990s. Palmer grew up in Shepparton, Victoria. She played netball for Victoria.[2] Palmer has a Honours Degree in Applied Science from Royal Melbourne Institute of Technology and a Masters of Sport Management from Deakin University.[3]
Palmer was the Chief Executive of Netball Victoria from 2000 to 2006.[1][4] In 2007, she was appointed as Chief Executive of Netball Australia and resigned in November 2016.[1][5] In announcing Palmer's appointment as Chief Executive Officer of the Australian Sports Commission, Minister for Sport, Sussan Ley stated "This is the first female appointment to the role in the ASC's 31 years of operation, which is a significant personal achievement and milestone for Australian sport. Ms Palmer has an exceptional track record and is well placed to meet the challenges and opportunities of the future of sport in Australia." [1]
Palmer's roles outside netball include: Chair of the Victorian Institute of Sport (2010-2016), Trustee of the Melbourne Cricket Ground (2004-2015), Director of the International Netball Federation (2011-2015), Director of TTNL Ltd (ANZ Championship 2008-current), Panel Member of the Australian Sports Anti-Doping Authority Advisory Committee (2010-2014), Ambassador of ConnectGV and Director of Australian Commonwealth Games Association (2011).[1]
Palmer was awarded the AIS Sport Performance Awards Leadership Award for 2014 with Damien Marangon.[6]
In the 2019 Queen's Birthday Honours Palmer was appointed a Member of the Order of Australia (AM) in recognition of her "significant service to sports administration".[7]
Join the sporting community to hear from Kate Palmer at this years Pride in Practice – Australia's LGBTI Inclusion Conference.