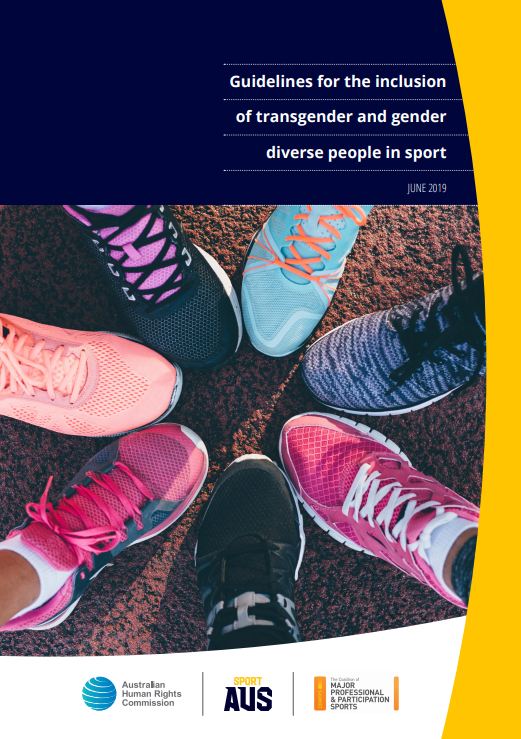 Guidelines for the inclusion of transgender and gender diverse people in sport
© 2019 Australian Human Rights Commission
Sport Australia partnered with the Australian Human Rights Commission and the Coalition of Major Professional and Participation Sports to develop Guidelines for the inclusion of transgender and gender diverse people in sport.
The Guidelines provide:
information about the operation of the federal Sex Discrimination Act 1984 (Cth) (the Act) in relation to:

unlawful and permissible discrimination on the basis of sex and gender identity
sexual harassment
victimisation

practical guidance for promoting inclusion in line with fundamental human rights-based principles:

equality
participation in sport
freedom from discrimination and harassment
privacy.
Other relevant areas of law are also considered.
'Click Here' to download this publication for free.
---
Social Media & Issues Management in Sport
© 2019 Heard MSL & Pride in Sport
The best managed crisis is the one you never hear about. That's why crisis preparation, planning and training is so important.
It helps to inform decision making, test responsiveness and ensure your organisation has the skills and support to effectively navigate situations that pose a risk, either to people and safety, operations or reputation.
Crisis preparedness involves planning for the high-risk scenarios that are known, and building muscle memory in crisis response that will help you respond quickly and effectively to unforeseen issues that arise.
'Click Here' to download this resource for free. 
---
Anti-Homophobia & Inclusion Framework for Australian Sport
© 2014 Bingham Cup Sydney
This Anti-homophobia & Inclusion Framework (Framework) sets out a structure for the development of Antihomophobia & Inclusion Policies (Policies) to be adopted by the Australian Rugby Union, Australian Football League, National Rugby League, Football Federation Australia and Cricket Australia (each, a Sport Peak Body).
The aim of the Framework and Policies is to eradicate homophobia, including biphobia, from the five sports. This includes the eradication of discrimination, harassment, and bullying on the basis of sexual orientation. It also includes encouraging gay, lesbian and bisexual people to participate in these sports and to maintain their involvement. The Framework includes, at Annexure A, a sample Policy that could, with minimal amendments, be adopted and implemented by the Sport Peak Body.
The pillars and action items in section 6 form the substance of the Framework and the sample Policy. Action items are included in the sample Policy in a form that enables the Sport Peak Body to exclude particular items from the Policy if they consider an item unnecessary or burdensome.
This Framework and the sample Policy do not address discrimination on the grounds of gender identity and intersex status. It is intended that each Sport Peak Body will undertake further consultation with relevant organisations in the near future with a view to addressing these areas of discrimination separately.
'Click Here' to download this resource for free.
---