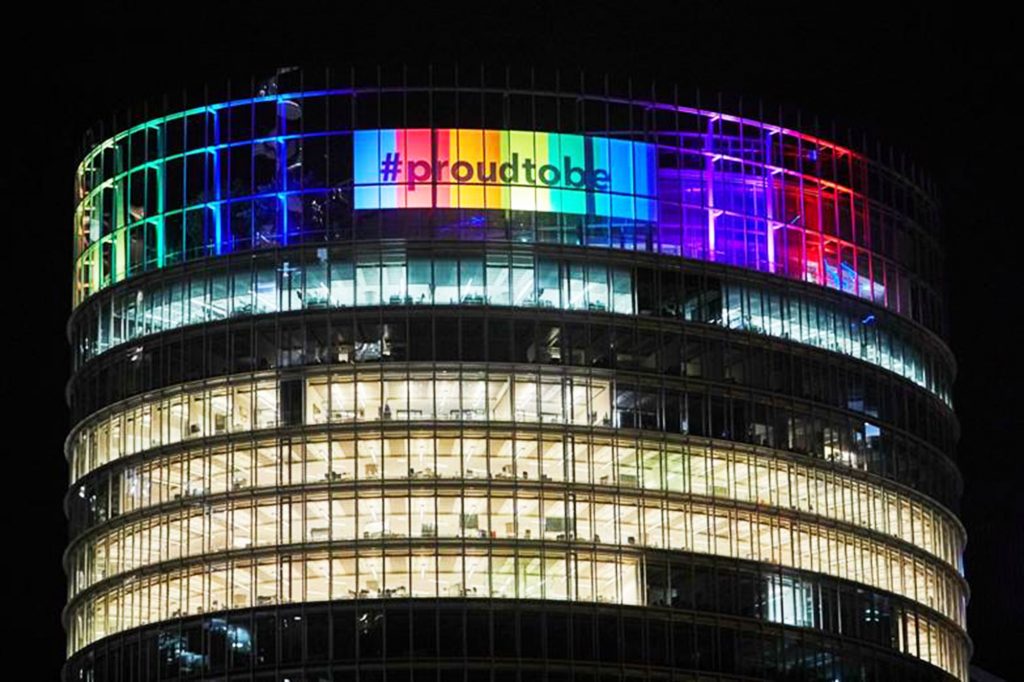 Bloomberg office lights up for IDAHOBIT
Pride will again shine bright in the heart of Sydney's Central Business District when the office rooftop of technology giant Bloomberg lights up in rainbow colours to commemorate International Day Against Homophobia, Transphobia, Biphobia, Intersexism and Transphobia (IDAHOBIT), and as a demonstration of their commitment to LGBTI inclusivity in the workplace.
As one of the world's leading technology companies providing global business and financial information and news, Bloomberg will be conducting a rainbow lighting of its Sydney office rooftop at One Bligh Street for over two weeks starting on IDAHOBIT on May 17.  The lighting will also celebrate NSW's leading LGBTI health organisation ACON and its Pride Inclusion Program's 2018 Australian LGBTI Inclusion Awards on May 25.
Established in 2009 by ACON, Pride Inclusion Programs consists of Pride in Diversity, Australia's not-for-profit employer support program for LGBTI workplace inclusion, which publishes the Australian Workplace Equality Index (AWEI), Australia's national benchmark for LGBTI inclusion acknowledging top employers for LGBTI people since 2010.
Along with Pride in Diversity, Pride Inclusion Programs also comprises of Pride in Sport and Pride in Health+Wellbeing – a suite of initiatives that assists sporting organisations and healthcare service providers with all aspects of LGBTI inclusion.
Along the same vein, the new sector-neutral Bloomberg Gender Equality Index (GEI) was launched in January 2018, on the principle of providing data transparency across internal company statistics, employee policies, external community support and engagement, and gender-conscious product offerings on some of the largest firms globally. Five firms from Australia feature in this index, including ANZ, Bank of Queensland, Fortescue Metals Group, National Australia Bank and Westpac. The sector-neutral Bloomberg GEI follows the release of the Bloomberg Financial Services Gender-Equality Index (BFGEI), launched in 2016.
Erika Irish Brown, Bloomberg's Global Head of Diversity and Inclusion said:
"More than 97% of our employees have now completed our unconscious bias training and more than 5,000 dedicated individuals globally – about one in four of us – are members of Communities at Bloomberg. These employee-run forums foster and support a more diverse and inclusive environment by enabling employees to serve as culture carriers, role models, and brand ambassadors, while also expanding their professional networks and enhancing their leadership and management skills. Bloomberg's diverse workforce and open culture are essential to innovation and the key to our success worldwide, so we are very proud to support IDAHOBIT and the values it stands for."
ACON's Pride Inclusion Programs Director Dawn Hough added: "LGBTI workplace inclusion has historically been little understood or acknowledged in Australian workplaces. Now it stands as one of the fastest growing areas of diversity and inclusion practice for businesses. The AWEI is acknowledged internationally as a gold standard benchmarking instrument – this year over 130 employers participated across all states and sectors and over 23,000 individuals participated in employee survey,"
"This is a testament to Australian employers, the incredible work that they have done for almost a decade. We have been honoured to be a part of that journey. I would like to acknowledge Bloomberg for their visual show of support for IDAHOBIT and the Australian LGBTI Inclusion Awards. This speaks to the importance of the work we all do and something all employers can be extremely proud of."
Image courtesy Bloomberg
ENDS
About Bloomberg
Bloomberg, the global business and financial information and news leader, gives influential decision makers a critical edge by connecting them to a dynamic network of information, people and ideas. The company's strength – delivering data, news and analytics through innovative technology, quickly and accurately – is at the core of the Bloomberg Professional service. Bloomberg's enterprise solutions build on the company's core strength: leveraging technology to allow customers to access, integrate, distribute and manage data and information across organizations more efficiently and effectively. For more information, visit www.bloomberg.com or request a demo.