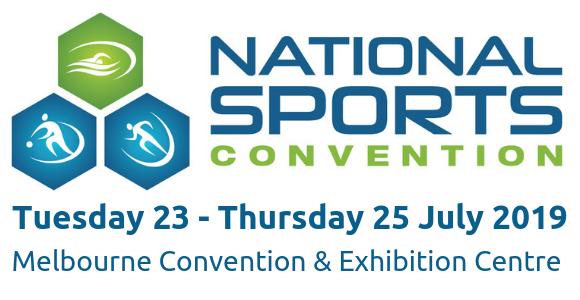 National Sports Convention to feature Pride in Sport
Melbourne, Australia – The National Sports Convention 2019 is Australia and New Zealand's leading gathering of sport, government, education, health, commercial, leaders, policy makers and providers in the physical activity, recreation and community sports sectors.  Today marks the official release of the 2019 convention program which will take place at the Melbourne Convention and Exhibition Centre on 23rd to 25th July 2019.
The focus of this year's collection of conferences, forums and events is:
Reimagining Sport
More people active with greater participation opportunities
Developed with Sport Australia, Sport New Zealand, Australia's eight State and Territory Departments of Sport and Recreation and many other key peak sport, recreation, government, health and education  bodies. Each of the conferences and knowledge sharing events will focus on the challenge of how to get more people moving, keeping them active and how to best provide opportunities to be part of community sport.
Aiming to attract the industry leaders, future decision makers and practitioners,  focusing on providing them with an understanding of global practices, policy and strategy guidance together with case studies from across Asia-pacific , encouraging delegates to take back learnings and tools to their workplace.
To achieve Sport Australia's 2030 Vision as part of the National Sports Plan, our industry needs to embrace successful global initiatives and align with our own opportunities and challenges to deliver real change. Most countries are committed to activating their communities and have embraced different approaches to plan, influence policy and provide those opportunities. The World Health Organisation (WHO) has been a key driver in this space and the NSC welcomes Fiona Bull as one of its Key Global Thought Leaders to explain how their Global Action Plan on Physical Activity can be embraced nationally and locally. She will be joined by Steven Ward (UK Active CEO) and Peter Miskimmin, Sport New Zealand CEO) explaining the approach they are taking.
Sport Australia, CEO said:
"Sport Australia, together with State and Territory Agencies for Recreation and Sport and Sport New Zealand, are pleased to support the 2019 National Sports Convention (NSC) in its third year at the Melbourne Convention and Exhibition Centre.
This convention is central to building capability of our industry's people and organisations by bringing together more than a dozen conferences, forums, masterclasses and events, and hosting over 150 leaders across the sport and physical activity sector to share their knowledge, expertise and passion.
The 2019 program supports Sport 2030 and its focus on more Australians moving more often. We must act now to keep pace with the ever changing challenges and needs of the modern world, we have a once in a generation opportunity to transform Australians and position ourselves to meet these challenges and ensure we are building a proud, strong, resilient, healthy and dynamic future for Australia through sport and physical activity."  Kate Palmer, Chief Executive Officer – Sport Australia
The Structure of the National Sports Convention 2019 has evolved this year to have a range of smaller conferences, forums and workshops that are intimate and interactive, with a series of larger Plenary Sessions around the key opportunities that the industry is facing: Facilities, Participation, Management, Systems Approach, Diversity and Inclusion.  Each morning all delegates will come together for the Global Thought Leaders Keynote Sessions for global inspiration and to appreciate the conversations that we need to have here in Australia.
Wednesday 24th July – Global Thought Leaders Session 1
Reimagining Sport to Achieve Sport Australia 2030 Vision, the World's Most Active and Healthy Nation
For Australia to be the most active and healthiest nation by 2030 as a sector we need to embrace a different approach. What can be learned from the World Health Organisation (WHO), who are promoting this global action plan and the approach that the UK health and fitness sector has taken to achieve a larger target audience? From these inspiring approaches the panel will explore the learnings for our local environments.
Thursday 25th July – Global Thought Leaders Session 2
Focusing on Future Generations – Our Children are Our Future
Our future generations could possibly have a lower expected life expectancy than current generations, by exploring evidence-based report cards and initiatives that have made a difference over 20 plus years, what are the priorities that we can embrace locally to make a difference to current and future generations of children?
Full Program can be found at https://www.nationalsportsconvention.com.au/programs/
Follow the National Sports Convention on Facebook, LinkedIn and Twitter
#NSConvention #Moveit #Findyour30 #PrideInSport
Event Details

National Sports Convention
23rd – 25th July 2019
Melbourne Convention and Exhibition Centre