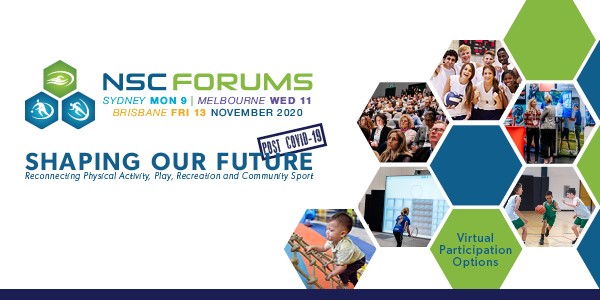 National Sports Convention Pivots to Offer Multiple NSC Forums for 2020
Australia's leading National Sports Convention (NSC), postponed from July this year has embraced the COVID-19 challenge and pivoted, now offering three single day NSC Forums 2020 in Sydney, Melbourne and Brisbane on the 9th, 11th and 13th November consecutively.
As the sport, government, recreation and play sectors start to focus forward, the NSC Forums bring together global and national leaders along with specialists in each state to share insights and opportunities to recalibrate and prepare ready for 2021's strategic planning process.
With the continued support of Sport Australia, Sport New Zealand, State Governments of NSW, Victoria and Queensland together with each State Sports Federation an inspiring agenda has been developed.
The NSC Forums have been created to provide insights and opportunities ready for the business planning of 2021 focusing on how to reconnect physical activity, play, recreation and community sport. With significant emphasis on participant interaction, the NSC Forums are structured to encourage greater opportunity for discussions and questions. The initial Keynote Session thoroughly sets the scene:
Keynote Session 1: Active Communities and Community Sport – post COVID-19
Exploring what active communities and community sport look like post COVID-19 for delivering physical activity, play, recreation and sport. Ministers for Sport from all three States have been invited to participate and provide insights into their future commitment to sport and recreation to open each NSC Forum.
Peter Miskimmin, Chief Executive Officer, Sport New Zealand

 

The New World: A Generational Opportunity to Recalibrate Community Sport

Rob Dalton, Acting Chief Executive Officer, Sport Australia

 

Sustainability for Community Sport: The Big Picture Priorities and How Sport Australia can Support the Sector

Keynote Panel
In each State, the panel members will include the CEO's from the State Government Department

s

of Sport and Recreation, the CEO's of the State Sports Federation and a CEO from Local Government to discuss the opening presentations, what is means for each State and the impact on planning for 2021 onwards.
Each NSC Forum has limited tickets to attend in person, with options also available to participate virtually will be integrated into each Forum.
With online e-delegate tickets from only $99 +GST, it is expected that demand will be high.  Registrations open Thursday 23rd July.
Program details are available at www.nscforums.com.au
Editors Notes
The National Sports Convention (NSC) has grown since 2016 as Australia/New Zealand's largest and most prominent community sport and recreation convention and expo attracting over 1,500 people annually.
Due to COVID-19 challenges the organisers have worked with its 40+ collaborators to pivot its offering for 2020 to take the NSC to key states and structure the event for online access in a Forum format.
The full NSC Forum Program can be found at www.nscforums.com.au
Follow the National Sports Convention on Facebook and LinkedIn
#NSCForum
Further information contact Martin Sheppard, Co-Founder and NSC Forum Convener at martins@smartconnection.net.au or 0404 022 355.
Event Details
NSC Forum – Sydney – Monday 9th November – Rosehill Gardens, Parramatta
NSC Forum – Melbourne – Wednesday 11th November – Melbourne Convention and Exhibition Centre
NSC Forum – Brisbane – Friday 13th November – Brisbane Convention and Exhibition Centre